Hey You, Pikachu!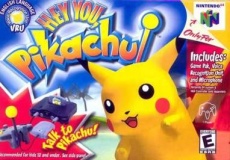 Hey You, Pikachu! is a Nintendo 64 game that was released in North America and Japan only.
It was released in Japan in December of 1998, and to the North American market in November of 2000. The game uses the Nintendo 64 VRU, or Voice Recognition Unit, with a library of 200 words. The game allows the player to talk to and look after a Pikachu, after being told to by Professor Oak. The player can feed Pikachu, talk to it, and more, to do with actually ineracting with the Pikachu. It is very similar to the Sega Dreamcast game, SeaMan, also using a voice recognition unit. Other Pokémon can be talked to in the game.
Gameplay
Hey You, Pikachu tries to make the game as realistic as possible, when Professor Oak introduces you to a new piece of hardware that allows the player to talk to Pokémon. The player is a test candidate. Pikachu must become accustomed to the player, and the player must gain Pikachu's trust and friendship before he/she can fully interact with the Pikachu. Abra's Shop is a place where the player can buy itemd for the Pikachu using Pika Points. An amusing twist to the end of the game is that the game actually never ends. After exactly a year of playing, the player must release the Pikachu into the wild. He/she has to say goodybye to it several times before the Pikachu realises that it is being released. The Pikachu then returns to the player a little later.
Sequel
Pokémon Channel for the Nintendo Gamecube is considered a sequel to Hey You, Pikachu. There was no other successful sequels to the game.
The game is considered to be a good game for the Nintendo 64, but the VRU limitations lets the game down in reviews, by having a very limited dictionary.
Related Threads
Hey do know why Pikachu have gotten enough of Pokemon Go???
- last post by
@ Dec 27, 2016
Surfing Pikachu - Evolve to Kanto or Alolan form Raichu
- last post by
@ Jan 7, 2018
Any different from Hey you Pikachu?
- last post by
@ Jul 20, 2004
Pika-pika, Pikachu! Introduce yourselves!
- last post by
@ Feb 19, 2016
Hey You, Pikachu!
- last post by
@ Oct 6, 2016
Last
edited
by
Relmutsie AN
on 30 April 2010 at 10:22
This page has been accessed 2,668 times.