Azalea Town
Azalea Town is a small town located in the Southern Part of the Johto Region. It features notable locations like the Slowpoke Well, and is located near the Ilex Forest.
One of the Azalea Towns notable residents is Kurt, a custom Poké'ball Creator who makes Poké balls out of Apricorns.
Pokémon Trainers must travel southward to Azalea Town through Union Cave in order to win the Hive Badge from Bugsy, the Gym Leader of Azalea Town who specializes in Bug-Type Pokemon.
Slowpoke Well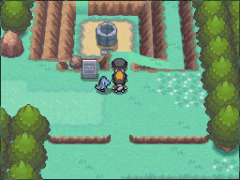 Not much generally happens here, except for when
Team Rocket
threatens to do somethimg sinister to all the
Slowpoke
in the Slowpoke Well. Once Kurt helps you get in into the Slowpoke Well, It's up to you to stop them, after you defeat all the
Team Rocket
grunts you must rise to the challenge and defeat
Team Rocket
commander Proton, he contains the two pokemon:
Koffing
and
Zubat
.

The Item King's Rock may also be obtained here by going to an underground island under the cave, once you get there by using Surf, you'll talk to a man which will give you the item King's Rock. This item can be used to evolve slowpoke into slowking by trading it, this is another slowpoke evolution besides the other one which is Slowbro.
Last
edited
by
Relmutsie AN
on 27 April 2010 at 04:36
This page has been accessed 2,274 times.