Battle Chateau
Battle Chateau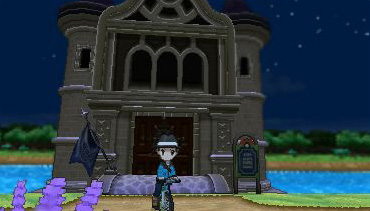 Region
Kalos
Description
A battle facility found on Route 7.
Connections
The Battle Chateau is a place available in Kalos, where the player can battle various trainers everyday and earn titles.
The player will find trainers of equal or lesser title than his.
Ranks
As he fights in the Battle Chateau, the player will gain higher titles and unlock stronger opponents and gain access to Writs.
Rank
Requirement
Unlocks
Baronness
When first entering the Battle Chateau
Writ of Invitation
Viscountess
After defeating 5 trainers
Silver Writ of Invitation
Earl /
Countess
After defeating 20 trainers
Gold Writ of Invitation
Marquis /
Marchioness
After defeating 40 trainers
Battle Gym Leaders /
Writ of Challenge
Duke /
Duchess
After defeating 140 trainers
Battle Elite Four /
Blue Writ of Challenge /
Red Writ of Challenge
Grand Duke /
Grand Duchess
After defeating every different trainers
Battle Diantha /
Black Writ of Challenge
Writs
At the entrance inside of the Battle Chateau, the women on the right will sell Writs with various effects to the player, depending on his Rank.
Writ
Effect
Cost
Title required
Writ of Invitation
Increase trainers arrival frequency
50.000
Baron /
Baronness
Silver Writ of Invitation
Increase trainers arrival frequency a lot
100.000
Viscount /
Viscountess
Gold Writ of Invitation
Increase winnings by 50%
100.000
Earl /
Countess
Writ of Challenge
Increase the level of Pokémon foes by 5, and increase winnings
50.000
Marquis /
Marchioness
Blue Writ of Challenge
Decrease the level of Pokémon foes by 10, and decrease winnings
10.000
Duke /
Duchess
Red Writ of Challenge
Increase the level of Pokémon foes by 10, and increase winnings
100.000
Duke /
Duchess
Black Writ of Challenge
Increase the level of Pokémon foes by 20, and increase winnings
300.000
Grand Duke /
Grand Duchess
Related Threads
Battle Chateau
- last post by
@ Feb 9, 2014