Candice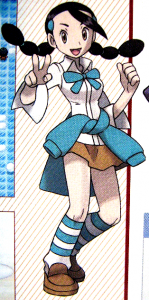 Candice (スズナ, Suzuna in original Japanese language version) is the Gym Leader of Snowpoint City. She hands out the Icicle Badge when she is defeated by the game's protagonist. Her name contains the word Ice which refers to Ice-type Pokemon she specializes in.
Anime & Manga
Anime
Candice was first shown in several "flash-forward" clips in DP120, and will make her debut appearance in DP126 as a teacher in Snowpoint's Trainer School.
Pokemon
Candice has the following Pokemon in the Anime:
Sneasel
Medicham
Abomasnow
Manga
Pokemon Special
She appeared in Route 217 saving Platina when she fell from her skis after striking with a Graveler
Pokemon
Snover
Abomasnow
Frosslass
Pokemon DP
Candice used these Pokemon to battle Regigigas which Hereta later captures it
Regirock
Regice
Registeel
In-Game
Candice uses Ice-type Pokémon in her battles. Trainers who defeat her will receive the Icicle Badge, TM72 (Avalanche), and will be able to use Rock Climb outside of battle. Candice teaches that before battling with Pokémon, a person needs to befriend them first. Candice has an interest in fashion and romance as well as Pokémon, and believes a person should put all their focus into whatever they do. She sometimes muses that she acts the opposite of the way people would expect a Ice-type Gym Leader to behave - warm and friendly instead of cold and distant.
She later allows the player entry into the Snowpoint Temple, and, in Platinum, will appear occasionally for rematches at the Battleground.
In Platinum, Maylene mentions in Snowpoint's Pokémon Center that she admires Candice for being studious. She also mentions that Candice wanted to practice against her to learn about the Fighting-type due to it being a weakness of Ice-type Pokémon.
Gym
In order to reach to Candice, the game's protagonist must figure out her puzzle, by taking out the snowballs out of the way by sliding into them. Once you made a straight path, you can go and challenge Candice.
Pokemon
Diamond & Pearl
Snover
Sneasel
Abomasnow
Medicham
Platinum
Piloswine
Sneasel
Abomasnow
Frosslass
Platinum (Rematch)
Weavile
Mamoswine
Abomasnow
Frosslass
Glaceon
Trivia
Even though Candice lives in the snowy north of Sinnoh, the only protection she seemingly has from the weather is the sweater tied around her waist and her long socks.
Candice is the only Ice-type specialist that doesn't use a Water-type Pokémon.
In Pokémon Diamond and Pearl, Candice is the only Gym Leader to use two Pokémon within the same evolutionary line on her team (Snover and Abomasnow).
All of Candice's Diamond and Pearl team are Pokémon that have gender differences; this would also be true for her Platinum team, however, as Froslass is a female-only Pokémon, it cannot have gender differences.
The highest-leveled Pokémon in Candice's team differs between every battle.
Her Italian name is the same as the English name of a character from Pokémon Heroes.
Candice is the only female Gym Leader whose gym design was not changed in Platinum. The snowball positions were changed slightly, however.
Related Threads
I can't beat Candice!
- last post by
@ Sep 25, 2013
Last
edited
by
Relmutsie AN
on 28 April 2010 at 00:56
This page has been accessed 4,759 times.