Chimchar
Chimchar


ヒコザル



Species
Type
Chimp Pokémon
Number
Ability
#390
Blaze
Iron Fist
Height
Weight
1′8″ (0.5m)
13.7 lbs. (6.2kg)
Gender Ratio
Male: 87.5%
Female: 12.5%
Evolves From
Evolves Into
None
Monferno
Egg Group
Catch Rate
Field / Human-Like
45
Tier
EV Yield
NFE
1 Speed Point
Chimchar (ヒコザル) is the fourth Pokémon in the Sinnoh Pokédex. It is a Fire Type, and it is known as the Chimp Pokémon.
Chimchar's ability, Blaze increases the power of its Fire type attacks when its HP is below a third, while its Dream World Ability Iron Fist increases the power of Punch moves by 20%.
Chimchar evolves into Monferno starting at level 14 and into Infernape starting at level 36.
Chimchar is in the Egg Groups Field and Human-Like, and its Egg takes approximately 5,120 Steps to hatch. It takes Chimchar 1,059,860 Experience Points to reach Level 100.
[edit]
Biology
[edit]
Physiology
Chimchar, known as the Chimp Pokémon, resembles a small chimp; It has mostly orange/brown fur with a tan belly. It has a flame-like patch of hair on its head and an actual flame on the tip of it its tail. Chimchar is also noticeable for its rather large eyes and ears. Chimchar's flame is known to go out if it falls asleep.
[edit]
Gender Differences
Chimchar has no distinguished features that make it appear male or female.
[edit]
Game Information
[edit]
Original Games
Chimchar is one of the three Starter Pokémon of the Sinnoh region. Chimchar must be traded over to games of other generations in order to be obtained.
[edit]
Spin-Off Games
Chimchar is available as a starter Pokémon in both Explorers of Time and Explorers of Darkness depending on how the player answers questions at the start of the game. Chimchar also appears at Giant Volcano 1F-10F and Dark Crater B1-B10 in Explorers of Time, Darkness, and Explorers of Sky.
Chimchar is exclusive to Dungeon Blazing Adventure Squad, appearing at Fire Mountains 1F-10F.
Chimchar appears at Chroma Highlands in Pokémon Ranger: Shadows of Almia. Chimchar appears inside the Submarine before it crashes, and at Faldera Island's Dock in the Present, but the latter is a Hidden Pokémon in Pokémon Ranger: Guardian Signs in the Present. In the Past, Chimchar can be obtained in the Dark Temple mission Glowing Roads in the Darkness by capturing it or one of its evolved forms and obtaining its Slate. A difficult Boss Battle awaits at the end of the mission, making a victory within the time limit very difficult.
Chimchar can be found at Sunny Seashore Magma 4-3 in Pokémon Rumble Blast.
Chimchar appears at Ignis in Pokémon Conquest after completing the game.
[edit]
Trading Card Game
Chimchar appears in a total of five sets, Pokémon Organized Play Series 6, 8, and 9 as a Common Card in each, and a Diamond and Pearl Promo. Chimchar is listed as a Common Card in the Diamond and Pearl, Majestic Dawn (2), Platinum and Supreme Victors sets.
[edit]
Anime/Manga Information
Chimchar makes its debut in the first episode of Pokémon Diamond and Pearl as one of the starter Pokémon offered to Dawn by Professor Rowan, though he is not picked.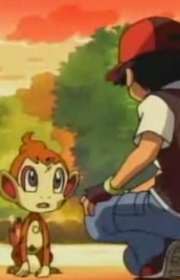 Later in the season, Chimchar is shown to be a vital part of Paul's team - chosen for its remarkable use of its ability, Blaze. However, Paul treats Chimchar badly, never acknowledging the hard work and effort it puts into battling and frequently overworking it to exhaustion. When Chimchar battles Ash's Pokémon, he gets excited about how Ash and his Pokémon get along - even though he is consistently berated by Paul.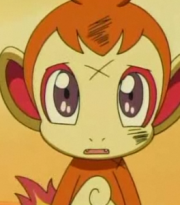 When Chimchar lost while battling in the Tag Battle Competition, Paul releases it in front of Ash and friends. Chimchar, tired and weak, begins to walk away when Ash comes forward and ask if it'd like to join his team. Chimchar is hesitant at first, but Ash reaffirms his commitment to learn and strategize side-by-side with Chimchar, as with all his other Pokémon, and Chimchar accepts.
Chimchar forms a very close bond with Ash, who learns how to calm Chimchar down whenever his ability Blaze kicks in; he becomes a staple of Ash's team in Sinnoh. Chimchar would evolve into Monferno in the episode Evolving Strategies, but would still be defeated during a 6-on-6 battle in which Paul would emerge victorious.
Flint of the Elite Four is shown to have had a Chimchar when he was younger; this Chimchar eventually evolves into Flint's Infernape.
[edit]
Movies
Ash's Chimchar appeared in the film Giratina and the Sky Warrior and the Pikachu Short Pikachu's Great Ice Adventure. Another trainer named Alice used a Chimchar in The Rise of Darkrai and Arceus and the Jewel of Life.
Chimchar's Manga Info is unknown as of writing.
[edit]
Pokémon Information
[edit]
Competitive Battling
Chimchar is in the NFE tier - not often used at this stage of evolution.
[edit]
Pokéthlon Statistics
Stat
Speed
Power
Technique
Stamina
Jump
[edit]
Area Locations
Base Stats
| | | | | | |
| --- | --- | --- | --- | --- | --- |
| | | Min- | Min | Max | Max+ |
| HP | 44 | - | 198 | 292 | - |
| Atk | 58 | 108 | 121 | 215 | 236 |
| Def | 44 | 83 | 93 | 187 | 205 |
| Sp. Atk | 58 | 108 | 121 | 215 | 236 |
| Sp. Def | 44 | 83 | 93 | 187 | 205 |
| Spd | 61 | 114 | 127 | 221 | 243 |
[edit]
Via Level-Up
[edit]
Via TM/HM
[edit]
Via Breeding
[edit]
Via Move Tutor
[edit]
All Generation 5 Games
[edit]
Black 2/White 2 Exclusive Moves
[edit]
Via TM/HM
[edit]
Via Move Tutor
[edit]
Heart Gold/Soul Silver
| Move | Type | Power | Acc% | Class |
| --- | --- | --- | --- | --- |
| Headbutt | | 70 | 100% | Physical |
[edit]
Evolution Line
| | | | | |
| --- | --- | --- | --- | --- |
| | Level 14 | | Level 36 | |
[edit]
Type Matchups
| Type | Attack Advantages | Attack Disadvantages | Defense Advantages | Defense Disadvantages |
| --- | --- | --- | --- | --- |
| | | | | |
Related Threads
best team with chimchar
- last post by
@ Oct 25, 2012
Chimchar
- last post by
@ Feb 6, 2012
Are these moves possible for a Chimchar?
- last post by
@ Jan 1, 2011
Um...Chimchar?
- last post by
@ Apr 27, 2009
Strong Chimchar?
- last post by
@ Dec 12, 2008