Dream Smoke
Dream Smoke (also known as Dream Mist) is an item in-game that Munna and Musharna are said to give off. Professor Fennel uses the Dream Smoke to record and process dreams, making Game Sync to the Dream World possible. In game, early in the storyline of Pokémon Black and Pokémon White, the player has to go to The Dreamyard and capture Dream Smoke from a wild Munna.
So far, only Munna and Musharna are shown to five off Dream Smoke.
Afterwards, the Dream World becomes accessible.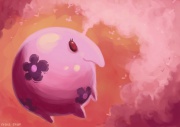 Related Threads
wat is pokemon black and white dream world
- last post by
@ Jul 5, 2011
wat is pokemon black and white dream world
- last post by
@ Jul 4, 2011
Dream World infos
- last post by
@ Sep 28, 2010
About the Dream world
- last post by
@ Oct 22, 2010