Entralink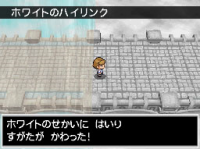 Entralink
(Japanese: ハイリンク - High Link)
is a feature to debut in
Pokémon Black
and
Pokémon White
, that allows players to connect with friends and walk around certain parts of the
Unova
region and is done through local wireless. Unlike trading and battling locally, this cannot be done via a
Pokémon Center
, only by going to a specific part of Unova can the Entralink be used. When the player concerned is not the host, everything looks normal. However if the player is joining another members High Link connection you enter a monochromatic version of Unova and your appearance changes to the multi player trainer type that the player can chose.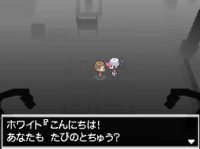 When the player is in their friends' Entralink, they can move around and search for their friend. During the players time in Entralink they can complete several challenges in order to gain prizes. There are missions that allow you to team up with your friend to complete the challenge, as well as missions that require you to oppose your friend.
Mission Listings
Item Mission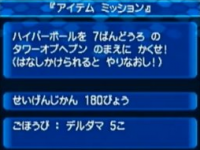 US Name: Unknown
Japanese Name: Item Mission
Time Limit: 180 seconds
Reward: 5 Derudama
The player needs to go to Celestial Tower on Route 7 and hide an Ultra Ball in front of the entrance. If another player talks to the player during the mission, the player fails.
Battle Mission
Support Mission
Related Threads
How do I get into someone else's world on Entralink?
- last post @ Jan 28, 2017
Entralink
- last post by
@ Mar 18, 2011
Entralink or whatever
- last post by
Dragoon
@ Mar 15, 2011
Game Sync, Entralink, and Dream World Abilities
- last post by
@ Dec 18, 2012
Entralink - More minigames?
- last post by
@ Apr 14, 2012
Last
edited
by
Lesley Pro_04
on 24 September 2011 at 21:48
This page has been accessed 3,330 times.