Evice
Evice

Rank

Region

First Appearance
Evice is the acting leader of Cipher, an evil syndicate, in Pokémon Colosseum for the Nintendo GameCube. He truly works under Grand Master Greevil, the real leader of Cipher, who shows himself for the first time in Pokémon XD: Gale of Darkness.
He acts as Mayor Es Cade of Phenac City throughout the majority of the game. His true identity is revealed after Nascour is defeated atop Realgam Tower at the end of the game, where he transforms into his ominous form, which changes the entire aura of the cutscene. The music gets darker and slower, and everyone has a strange sudden reaction.
Personality
As Es Cade, he is a bubbly, jolly old man. This is a polar opposite when comparing it to his true personality as Evice.
As Evice, he is a cynical, ruthless, powerful leader. He is highly respected amongst the ranks of Cipher due to the fact that he is completely evil and has no purity in his heart. He is the most powerful member of Cipher in terms of the Story Mode in both of Pokémon Colosseum and Pokémon XD. All of his Pokémon are higher levels than the other trainers' (excluding the Cipher Peon that impersonates Wes in Outskirt Stand), even compared to Greevil. However, he is only in second-in-command. This is not revealed until Citadark Isle in Pokémon XD, even though Chief Sherles does always state that it was possible Evice was not the true leader of Cipher.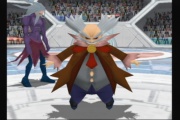 He is cruel even to his most loyal follower, Nascour. This is evidenced after Nascour is defeated atop Realgam Tower, and he is forced to apologize to Evice for losing to Wes and Rui. It is unknown if any other Cipher members besides Greevil and Nascour knew that Evice was the head of Cipher during Colosseum's time, as all of the Cipher Admins refer to Nascour as "Master Nascour" throughout the game.
Battles
Evice has no set strategy in battle. He just enjoys terrorizing and decimating his opponents using powerful Pokémon and attacks. He also uses attacks like Skill Swap and Bulk Up to change the stats and skills of his Pokémon to make it easier to defeat his opponent.
He uses Roar as an annoyance with his Aggron that replaces his Shadow Tyranitar. It sends the opponent's Pokémon away, so even having a type-advantage means nothing if the opponent's Pokémon has less Speed.
2nd Battle only occurs if Shadow Tyranitar is snagged in the battle before, and Evice defeats the player. It also occurs if Shadow Tyranitar was snagged, and the player fights Evice once again after the game.
Related Threads
How do you beat Evice?
- last post by
@ Aug 15, 2010
Evice
- last post by
@ Oct 3, 2004
Realgam tower after defeating Evice
- last post by
@ Aug 3, 2004
Evice
- last post by
@ Apr 17, 2004
Stupid Idiotic Evice
- last post by
@ Feb 6, 2005
Last
edited
by
Lesley Pro_04
on 22 March 2014 at 15:06
This page has been accessed 4,410 times.