Explorer Kit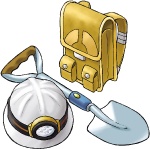 The Explorer Kit is a Key Item in Pokémon Diamond, Pearl, and Platinum. It is used to gain access into the Underground. The player receives the Kit by the Underground Man in Eterna City, once you make it to that point in the game. You can use the Explorer Kit by going into the menu and into your Bag and selecting Key Items. Once selected, a message will pop up asking if you will like to save your game, and indicates that DS Wireless Connection will be turned on. You will then be transported into the Underground, and where you will be sent to depends on your location above ground.

Your Kit includes many basic items used for digging including: a hammer and pickaxe, a map, a radar, and containers for Spheres and Decorations (which are known as Goods). You must use your hammer and pickaxe to dig through the tunnel walls in order to get the treasure hidden inside.
Related Threads
Explorer Kit
- last post by
@ Nov 24, 2007
Explorer kit meetings
- last post by
@ Aug 10, 2009
explorer kit on events
- last post by
@ Sep 22, 2007
Scaling HM/ Explorer kit
- last post by
@ May 7, 2007
Need help finding Explorer kit guy!
- last post by
@ Apr 29, 2007
Last
edited
by
Relmutsie AN
on 29 April 2010 at 13:30
This page has been accessed 3,620 times.