Fuchsia City
Fuchsia City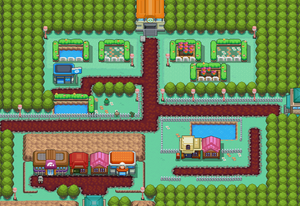 Region
Kanto
Description
A historic village that has become new.
Connections
Fuchsia City is located in the southern part of Kanto. It holds Gym Leader Koga's (Janine's in Gold, Silver, Crystal, HeartGold, and SoulSilver) gym.
It also contains the Safari Zone in the north area of the city, with multiple Pokémon on exhibit outside, some of which are actually catchable in the Safari Zone. The warden of the Safari Zone lives in the south part of the city as well, and will give the hero HM04 Strength in exchange for his lost false teeth (to Red or Leaf in Generation I).
Related Threads
Fuchsia city Safari zone
- last post by
@ May 9, 2009