Pokémon Movie 11: Giratina and the Sky Warrior
(Redirected from Giratina and the Sky Warrior)
Pokémon Movie 11: Giratina and the Sky Warrior

English Movie Poster

Japanese Name

ギラティナと氷空の花束 シェイミ Giratina and the Sky's Bouquet: Shaymin

Pokémon Short

"Unknown"

Running Time

110 min.

Release Dates

(JPN) July 19, 2008
(JPN) December 19, 2008 [DVD Release]
(US) February 13, 2009
(UK) Summer, 2009

Main Cast (English)

Sarah Natochenny
Bill Rodgers
Emily Bauer
Jimmy Zoppi
Michele Knotz
Ikue Ōtani
Amy Palant
Eric Stuart
Tom Wayland
Marc Thompson
Brian Furguson

Preceded by

Followed by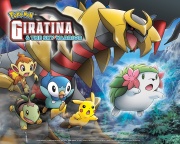 Giratina and the Sky Warrior is the 11th Movie of the Pokemon Anime, this marks the first appearance of Shaymin, Giratina and Regigigas. A evil villain known as Zero is trying to capture Giratina with the help of Shaymin as he can accidently open portals to the Reverse World, were Giratina lives. Will Ash and co help Shaymin and Giratina and stop Zero?
This movie also shows a lot of Pokemon that haven't appeared yet such as Leafeon, Magnezone and Mamoswine. Shaymin will appear in Sky Form along with Giratina in Origin Form. The movie has been released in cinemas in Japan and will hit North American screens on February 13, 2009 and in Europe during summer 2009.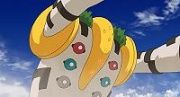 Related Threads
Pokemon 11th - Movie Giratina And The Boquet Of The Sky
- last post by
@ Apr 7, 2008
Last edited by
Hugo07
on 3 January 2009 at 12:55
This page has been accessed 30,304 times.