Glaceon
Glaceon


グレイシア



Species
Type
Fresh Snow Pokémon
Number
Ability
#471
Snow Cloak
Ice Body
Height
Weight
2′7" (0.8m)
57.1 lbs. (25.9kg)
Gender Ratio
Male: 87.5%
Female: 12.5%
Evolves From
Evolves Into
Eevee
None
Egg Group
Catch Rate
Field
45
Tier
EV Yield
4th Gen: NU
5th Gen: NU
6th Gen: NU
2 Special Attack Points
Glaceon (グレイシア) is the 170th Pokémon in the Sinnoh Pokédex. It is an Ice-Type, and is known as the Fresh Snow Pokémon.
Glaceon uses the Snow Cloak Ability, an Ability that activates while it is Hailing, increasing its Evasion by one stage whilst Hailing. Glaceon's Hidden Ability is Ice Body, which also activates during a Hailstorm. Ice Body restores HP during Hailstorms.
Eevee can evolve into a Glaceon if it Levels Up near an Icy Rock.
Glaceon is in the Field Egg Group, and its Egg takes approximately 8,960 Steps to hatch. It takes Glaceon One Million Experience Points to reach Level 100.
[edit]
Biology
[edit]
Physiology
Glaceon, like the other Eevee evolutions, resembles a canine/feline. Glaceon's fur consists of multiple shades of blue; it is covered in mostly light blue, but has spots on its back, paws, tail and ears that are a much darker blue. Glaceon has three large dark-blue tufts of fur on its face, with two elongated tufts draping each side - these look like icicles.
[edit]
Gender Differences
Glaceon has no distinguished features that make it appear male or female.
[edit]
Game Information
[edit]
Original Games
The only way to obtain a Glaceon is to evolve an Eevee at a location that has an Icy Rock. An Icy Rock is located at Route 217 in Diamond, Pearl and Platinum, and on B1 of Twist Mountain in Generation V. There isn't an Icy Rock in Heart Gold and Soul Silver.
[edit]
Spin-Off Games
Glaceon can be found at Crevice Cave B1-B10 & DPB1-B4 in Explorers of Time, Explorers of Darkness and Explorers of Sky. Glaceon is exclusive to Blazing Adventure Squad in Mystery Dungeon 3, appearing at Ripple Seas 1F-17F.
Glaceon makes an appearance at The Ice Lake in Pokémon Ranger: Shadows of Almia. In Pokémon Ranger: Guardian Signs, Glaceon can be found at the Cave Entrance on Mt. Sorbet in the Present, and in the Ice Temple missions "Time, Time, Time!" and "Save the Frightened Vulpix" by defeating it and obtaining its Slate.
Glaceon inhabits the Iceberg Zone in PokéPark Wii: Pikachu's Adventure. To obtain it you'll have to complete a Tag Race. In PokéPark 2: Wonders Beyond, Glaceon can be found at the Crag Area's Colosseum after retrieving it from Wish Park. To befriend it you'll have to complete an obstacle course that requires climbing the volcano in the area.
The only way to obtain a Glaceon in Pokémon Conquest is to evolve an Eevee.
[edit]
Trading Card Game
Glaceon is listed as an Uncommon Card in the Rising Rivals and Dark Explorers sets, and as a Rare Card in the Majestic Dawn (2) set. A third Glaceon is in the Majestic Dawn set, but this Glaceon is an Ultra Rare Lv. X Card.
[edit]
Anime/Manga Information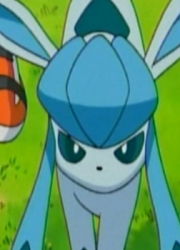 Glaceon's main appearances in the anime came when
May
rejoined the
Ash
and friends during
Pokémon Diamond and Pearl
temporarily for the Wallace Cup.
Before meeting up with Ash and the others, May decided to evolve her Eevee into Glaceon near Sinnoh's Ice Rock. As there is no known way to evolve Eevee into Glaceon in Hoenn, May came to Sinnoh early in order to evolve her Pokémon before the competition.
May used Glaceon in her final round battle against Dawn's Piplup in the Wallace Cup. The 2 put on an amazing performance that Dawn would win by the slightest of margins.
Cynthia would use her own Glaceon in the episode All For The Love of Meloetta.
[edit]
Movies
Another trainer would use a Glaceon in Giratina and the Sky Warrior. A Wild Glaceon made an appearance in the Pikachu Short "Pikachu's Great Ice Adventure."
Glaceon's Manga Information is unknown as of writing.
[edit]
Pokémon Information
[edit]
Competitive Battling
Glaceon finds itself in the Never-Utilized Tier of Competitive Battling as a result of having less-than-stellar type coverage and a limited movepool. Hail being banned in the Never-Utilized Tier didn't do Glaceon any favors, but despite this its Special Attack is on par with Kyurem, making its Special Attacks dangerous. Special Walls will do well because its Attack Statistic is significantly lower than its Special Attack, as will Fire-Type Pokémon provided that Glaceon isn't using Hidden Power Water, Ground or Rock. Also, Stealth Rock limits how many times a Glaceon can be entered into a battle.
[edit]
Area Location
[edit]
Pokédex Entries
[edit]
Pokéthlon Statistics
Stat
Speed
Power
Technique
Stamina
Jump
Base Stats
| | | | | | |
| --- | --- | --- | --- | --- | --- |
| | | Min- | Min | Max | Max+ |
| HP | 65 | - | 240 | 334 | - |
| Atk | 60 | 112 | 125 | 219 | 240 |
| Def | 110 | 202 | 225 | 319 | 350 |
| Sp. Atk | 130 | 238 | 265 | 359 | 394 |
| Sp. Def | 95 | 175 | 195 | 289 | 317 |
| Spd | 65 | 121 | 135 | 229 | 251 |
[edit]
Via Level-Up
[edit]
Via TM/HM
[edit]
Via Breeding
[edit]
Via Move Tutor (Black 2/White 2)
[edit] Eevee Exclusive Moves
NOTE: The only way for a Glaceon to know any of the moves in this section is for an Eevee to learn these moves in a Third Generation game prior to being transferred to a Fourth Generation/Fifth Generation game, then evolving said Eevee.
[edit]
Via TM/HM
[edit]
Via Move Tutor
| Move | Type | Power | Acc% | Class |
| --- | --- | --- | --- | --- |
| Swift | | 60 | --% | Special |
| Mud-Slap | | 20 | 100% | Special |
[edit]
Heart Gold/Soul Silver
| Move | Type | Power | Acc% | Class |
| --- | --- | --- | --- | --- |
| Headbutt | | 70 | 100% | Physical |
[edit]
Evolution Line
[edit]
Type Matchups
| Type | Attack Advantages | Attack Disadvantages | Defense Advantages | Defense Disadvantages |
| --- | --- | --- | --- | --- |
| | | | | |
Related Threads
Glaceon- need help please
- last post @ Apr 5, 2009
glaceon vs leafeon
- last post by
@ Jul 15, 2012
Any Suggestions For My Glaceon
- last post by
@ Mar 18, 2008
Glaceon?
- last post by
@ Jul 18, 2009
Glaceon Rock
- last post by
@ Jun 4, 2009