Holiday Hi-Jynx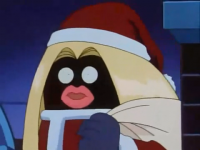 Holiday Hi-Jynx is an episode of the first Pokémon anime season, and is known as FEP039 (Former Episode 39).
This episode was banned in the United States on December 11, 1999, originally intended to be a Christmas special. The episode was not banned in Japan. It first aired in Japan on October 5, 1998.
Controversy
Controversy surrounded the episode because it was reported that Jynx - according to Carole Boston Weatherford - was a racial, stereotypical version of an African American woman; Jynx can be easily compared to the likes of a Golliwog. The episode was then banned, and was never aired on TV. In accordance with the controversy, Jynx's sprites in-game, and appearance in future anime episodes, were "completely revamped", giving Jynx a purple face rather than a black face.
Even though Cartoon Network has the rights to have rerun Pokemon episodes, they did not air this episode to avoid lawsuits. It is said that you can see this episode on VHS or the Indigo League Volume 3 DVD Pack Set.
Last
edited
by
Relmutsie AN
on 30 April 2010 at 10:28
This page has been accessed 3,417 times.