Joyous Tower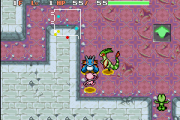 Joyous Tower is a Dungeon in Pokémon Mystery Dungeon: Red Rescue Team and Pokémon Mystery Dungeon: Blue Rescue Team. This dungeon can be considered one of the hardest dungeons in these games. This is because not only is this dungeon 99 floors, but upon entry, any Pokémon entering are reduced to level one, and when they leave the dungeon, return to their original level. In addition to this, before you enter, you are prompted to save the game, then your money is automatically reduced to 0.
This dungeon is one of the only 99 floor dungeons that doesn't have a Legendary Pokémon at the top. Instead of this, however, there are many rare Pokémon located here, such as most of the Starter Pokémon and Chansey, who can only be recruited here.
This dungeon is unlocked when you get the Sky Blue Plains friend area, after beating the Pitfall Valley dungeon.
Related Threads
I NEED TO BE RESCUED AT JOYOUS TOWER
- last post by
@ Jun 4, 2008
Joyous Tower/Wish Cave
- last post by
@ Jun 26, 2007
joyous tower
- last post by
@ Mar 12, 2007
Joyous Tower!
- last post by
@ Oct 22, 2006
joyous tower?
- last post by
@ Jul 8, 2011