Lily of the Valley Conference
The
Lily of the Valley Conference
is the Pokémon League Challenge of the
Sinnoh
Region, where all trainers who've collected the region's 8 badges from the Sinnoh Gyms have a chance to compete.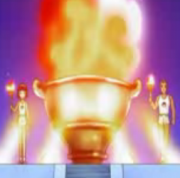 The conference is set up in a massive convention with shops selling memorabilia outside and inside of the main battle arenas. People from all over the Pokémon World visit for the event.
The Competition is a knock-out tier from the very first round of the Top 64 trainers who are only allowed to use teams of three Pokémon per battle. Trainers may also look up data about other trainers in the tournament on specially set-up systems in the Pokémon Center.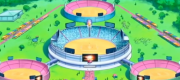 Starting with the third round, all battles take place in the main arena and the type of field changes randomly after each battle, to further surprise the competing trainers.
During round four, the top 8 advancing trainers begin to use their full teams of 6 Pokémon each.