Mega Aerodactyl
Mega Aerodactyl


メガプテラ

Aerodactyl < Mega Aerodactyl > Snorlax

Category

Type

Fossil Pokémon

Number

Ability

#142

Height

Weight

6'11" (2.1m)

174.2 lbs (79kg)

Gender Ratio

Male: 87.5%

Female: 12.5%

Evolves From

Evolves Into

None

Egg Group

Catch Rate

45

Tier

EV Yield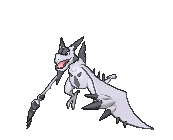 Mega Aerodactyl evolves from Aerodactyl from the use of a Aerodactylite.
Mega Aerodactyl uses the Tough Claws Ability, which increases the power of its moves that make physical contact with its target by 30%.
| | | | | |
| --- | --- | --- | --- | --- |
| Base Stats | Min- | Min | Max | Max+ |
| | | | | | |
| --- | --- | --- | --- | --- | --- |
| HP | 80 | . | 270 | 364 | . |
| Atk | 135 | 247 | 306 | 369 | 405 |
| Def | 85 | 157 | 206 | 269 | 295 |
| Sp. Atk | 70 | 130 | 176 | 239 | 262 |
| Sp. Def | 95 | 175 | 226 | 289 | 317 |
| Speed | 150 | 274 | 336 | 399 | 438 |
Competitive Battling
Mega Aerodactyl is a part of the Underused (UU) tier of competitive battling as arguably the best Mega Pokémon in the tier. With a very high Speed stat and great movepool, Mega Aerodactyl is a very versatile threat that can tailor its strengths for almost every team archetype. It has the capacity to go with an all-out attacking set, a set-up sweeping set with Hone Claws, or even a bulky set that allows it to check certain threats while holding up well due to overall decent defenses and access to reliable recovery in Roost. Mega Aerodactyl is among the fastest leads in the tier, capable of using Taunt against other entry hazard leads while being able to outspeed speedy threats like Mega Beedrill and Choice Scarf Chandelure. It is a great revenge killer with overall great coverage to hit Pokémon like Shaymin and Entei with super effective attacks. Tough Claws boosts some of Mega Aerodactyl's attacking moves, like Wing Attack, Aqua Tail, and Pursuit, with the latter being useful against frailer Pokémon like Chandelure that try to escape. Mega Aerodactyl is not flawless, though, with an inability to break through bulky Water-types and Steel-types like Suicune, Swampert, Doublade, and Mega Aggron, along with numerous weaknesses to common attacking types like Electric and Ice.
Mega Aerodactyl is also a force to be reckoned with in the Overused (OU) tier of competitive battling. With blistering Speed that puts it ahead of Pokémon like Tornadus-T, Mega Manectric, and Mega Lopunny, Mega Aerodactyl makes for a great offensive threat that can make for a great revenge killer and late-game cleaner. This is further bolstered by its Tough Claws ability that boosts its wide array of coverage moves, and its typing lends itself to being able to check certain threats like Mega Charizard Y, Volcarona, and Talonflame. Mega Aerodactyl can also choose to take a bulkier route as a Pursuit trapper, being able to trap Pokémon like Latios and Latias and take them out of the equation. However, Mega Aerodactyl is weak to Stealth Rock, which limits its switch-in opportunities, cannot break through certain defensive threats like Slowbro and bulky Garchomp, and is weak to quite a few priority attacks like Bullet Punch and Aqua Jet.
Mega Aerodactyl is also viable in the Uber tier of competitive battling. With blazing high Speed and access to Stealth Rock and Taunt, Mega Aerodactyl can provide valuable entry hazard support and prevent Defog users from removing entry hazards so long as it is on the field, which makes it a great fit on offensive teams, especially those that utilize Spikes. Thanks to the great coverage it gets from Stone Edge and Earthquake, it can afford to run both Stealth Rock and Taunt on the same set without sacrificing overall coverage. It can revenge kill fast threats like Mewtwo and Darkrai while having the capacity to check Ho-oh and Mega Salamence. Despite these great traits, Mega Aerodactyl does suffer from the fact that it is relatively weak in comparison to the rest of the Uber tier, being incapable of 2HKOing certain threats. Its bulk cannot hold up to powerful threats like Xerneas and limits the amount of time that Mega Aerodactyl can spend on the field. It also takes up a valuable Mega slot that can be dedicated to a more potent offensive threat like Mega Salamence or Mega Gengar.
Evolution Line
Type Matchups
Related Threads
Mega Gengar and Mega Aerodactyl
- last post by
@ Oct 15, 2013
Mega Evolves Breakdown/Speculation *Spoiler Alert*
- last post by
@ Nov 6, 2013
[SPOILER] Base Stats of Mega Evolutions
- last post by
@ Oct 16, 2013
Pokemon X and Y Hurt and Heal: Mega Edition!
- last post by
@ Dec 7, 2013
Pokemon X and Y Hurt/Heal round 3:Mega evolutions
- last post by
@ Nov 16, 2013