Mega Charizard Y
Mega Charizard Y


リザードン


Mega Charizard X < Mega Charizard Y > Squirtle
Species
Type
Flame Pokémon
Number
Ability
#6
Drought
Height
Weight
5'7" (1.7m)
221.6 lbs.
Gender Ratio
Male: 87.5%
Female: 12.5%
Evolves From
Evolves Into
Charizard
None
Egg Group
Catch Rate
Monster/Dragon
45
Tier
EV Yield
OU
3 Special Attack Points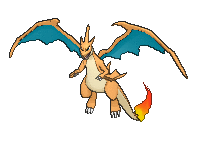 Mega Charizard Y is the Mega Evolution of Charizard and that evolves via the use of a Mega Stone, officially unveiled during the Pokémon Direct on the 4th September, 2013. During the airing of Pokémon Origins in Japan, it was revealed to be exclusive to Pokémon Y.
Mega Charizard Y uses the Drought Ability, which changes the weather conditions to Strong Sunlight upon its entry into battle.
Base Stats
Min-
Min
Max
Max+
HP

78

.
266
360
.
Atk

104

191
213
307
337
Def

78

144
161
255
280
Sp. Atk

159

290
323
417
458
Sp. Def

115

211
235
329
361
Speed

100

184
205
299
328
Competitive Battling
Mega Charizard Y resides in the Overused (OU) tier of competitive battling. Mega Charizard Y is among the tier's strongest wallbreakers due to its ability Drought which gives a 50% boost in its Fire Blast attacks. It can run Solar Beam to cover the Water-types that can survive one of its Fire Blast attacks and Focus Blast to take care of pesky defensive Pokémon like Heatran that would otherwise wall it. This coverage leaves only a select few Pokémon like Mega Altaria and Latios that can switch into Mega Charizard Y without having to worry about being knocked out easily. Those Pokémon that wall Mega Charizard Y can be more easily taken care of thanks to Pursuit support or stallbreakers that are capable of putting heavy pressure on those defensive Pokémon. However, there are flaws that keep Mega Charizard Y from being truly centralizing. It has a major weakness to Stealth Rock and only base 100 Speed, which allows it to be easily picked off by many faster threats. This also makes Mega Charizard Y easy to pressure, which can lead to momentum being sucked away from a team.
Evolution Line
Level 16

Level 36
Type Matchups
Related Threads
Mega Charizard X VS Mega Lucario
- last post by
@ Feb 28, 2014
mega stones for mega stones
- last post by
@ Jan 3, 2014
WILL ASH GET MEGA RING AND EVOLVE CHARIZARD?
- last post by
@ Sep 16, 2016
can you get charizard's mega stone without choosing him as starter??
- last post by
@ Aug 4, 2014
Good Moveset for Mega Charizard Y
- last post @ May 31, 2014