Mega Latias
Mega Latias


メガラティアス

Latias < Mega Latias > Latios

Category

Type

Eon Pokémon

Number

Ability

#380-M

Height

Weight

5'11" (1.8m)

114.6 lbs. (52kg)

Gender Ratio

Male: 0%

Female: 100%

Evolves From

Evolves Into

None

Egg Group

Catch Rate

3

Tier

EV Yield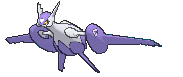 Mega Latias, the Mega Evolution of Latias activated by using Mega Stone, was discovered by hackers in Pokémon X and Pokémon Y. It retains its Dragon and Psychic-typings.
Mega Latias uses the Levitate ability which gives her an immunity to all Ground-type attacks, such as Earthquake or Earth Power, and to Spikes, Toxic Spikes and Sticky Web entry hazards.
Latias can Mega Evolve into Mega Latias if it is holding a Latiasite.
Competitive Battling
Mega Latias is a part of the Overused (OU) tier of competitive battling. With a typing that allows it to check numerous threats in the tier, such as Manaphy, Keldeo, and Breloom, Mega Latias is greatly appreciated for many different team archetypes. It is considerably bulky which makes it good for a support role on teams. Mega Latias is best used as a Calm Mind set up sweeper where it uses its great bulk to check a number of threats while acting as a solid wincon for bulky balanced teams. A defensive set with Ice Beam and Thunderbolt covers its bases against many common balance Pokémon, such as Gliscor, Landorus-T, and Skarmory, while maintaining its health through Roost. It can use Reflect Type to avoid being easy Pursuit bait and have a better matchup against Heatran and Ferrothorn or Thunder Wave to cripple opposing set-up sweepers like Tail Glow Manaphy. However, Mega Latias is not flawless, as it can be easily walled by common Fairy-types and Steel-types like Clefable, Mega Gardevoir, Klefki, and Scizor. It can be susceptible to Pursuit trappers if it chooses not to run Reflect Type, and its Psychic-typing does bring weaknesses to Ghost and Dark attacks, both of which are common in the tier.
| | | | | |
| --- | --- | --- | --- | --- |
| Base Stats | Min- | Min | Max | Max+ |
| | | | | | |
| --- | --- | --- | --- | --- | --- |
| HP | 80 | . | 270 | 364 | . |
| Atk | 100 | 184 | 205 | 299 | 328 |
| Def | 120 | 220 | 245 | 339 | 372 |
| Sp. Atk | 140 | 256 | 285 | 379 | 416 |
| Sp. Def | 150 | 274 | 305 | 399 | 438 |
| Speed | 110 | 202 | 225 | 319 | 350 |
Evolution Line
Type Matchups
Related Threads
Mega Latios VS Mega Latias
- last post by
@ Mar 1, 2014
Pokemon HACKER SMEA HAS BOTH MEGA LATIAS AND LATIOS IT'S CONFIRMED
- last post by
@ Jan 31, 2014
Mega Latias and Latios
- last post by
@ May 9, 2014
OR/AS Next Gen Ideas For Megas/Primals
- last post by
@ Aug 18, 2014
Dex #719-721 and 2 New Megas
- last post @ Mar 28, 2015