National Pokédex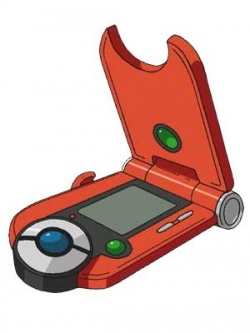 The National Mode Pokédex is an upgraded
Pokédex
mode that records information from Pokémon around the nation, instead of just ones native to a particular region. It lists all Pokémon in order from number, which is known as National Dex Number. In total there are 721 Pokémon in the National Dex.
The National Mode started appearing in Ruby and Sapphire. In these games, your Pokédex was updated when your game traded with either FireRed and LeafGreen or Emerald.

In FireRed and LeafGreen this mode was acquired after defeating the Elite 4 and having owned 60 or more Pokémon in their Dex. After this you are able to capture Pokémon released in Gen II & Gen III.

In Emerald the mode is acquired after defeating the Elite 4 just like in FireRed and LeafGreen. After you are able to trade with any other games from Gen III. After catching 200 Pokémon in your Dex, Prof. Birch will let you choose one of the Johto Starters.

In Diamond and Pearl you get the National Dex after seeing 150 out of 151 of the Sinnoh Dex. After talking to Prof. Rowan, Prof. Oak will come and upgrade your Pokédex. Note that you are still able to receive other Pokémon from trades not in the Sinnoh Dex before getting the National Dex.

In Gen II the National Mode Order was known as the "Old Pokédex" while the Johto Pokédex was known as the "New Pokédex".

List of Pokémon By National Dex Order
Generation I
Generation II
Generation III
Generation IV
Generation V
Generation VI
Related Threads
Regional, National, and Living Dexes!
- last post by
@ Dec 17, 2014
Noob to game so... Possible to get national dex with one version?
- last post by
@ May 25, 2008
Completing National Dex Questions, Pokebank, Safari
- last post @ Aug 18, 2014
The National Dex--- Too big?
- last post by
@ Jan 27, 2013
Winning Bug Catching after the National Dex?
- last post @ Sep 3, 2013