Pokémon Shuffle
Pokémon Shuffle

Developer

Genius Sonority

Publisher

Nintendo

Platform

Nintendo 3DS

Genre

Puzzle

Release Dates

Generation
Pokémon Shuffle (ポケとる) is an upcoming single-player Generation VI Pokémon puzzle game for the Nintendo 3DS. In this game, the player's goal is to clear various stages by lining up at least three of the same Pokémon and clearing these matches by catching the Pokémon, just like in Pokémon Battle Trozei!.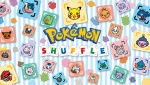 The difference between the two is that in Pokémon Shuffle, the player starts off with 5 hearts that serve as opportunities to play a stage and if they are reduced to zero, the player will have to wait or pay for hearts to replenish before they can play again. Hearts can be bought by using in-game currency and items or by buying items from the Nintendo eShop.

Unlike in Pokémon Battle Trozei!, Pokémon can level up and Mega Evolve (when they lead the party). Type effectiveness also plays a part in the game.
Related Threads
Pokemon Shuffle Version 1.5 Update now here!
- last post by
@ Jan 10, 2018
Boxcutter Kaede (Shuffle! debate thread)
- last post by
@ Jul 26, 2010
★ Pokemon Shuffle Friend Code Exchange ★
- last post by
@ Sep 20, 2017
Pokemon CEO Ishihara discusses Shuffle, Pokken, SMD and the future of the franchise
- last post by
@ Sep 21, 2015
Discuss your Pokemon Shuffle team!
- last post by
@ Mar 21, 2016
Last edited by
Ciel Phantomhive
on 25 January 2015 at 05:51
This page has been accessed 356 times.