Red (character)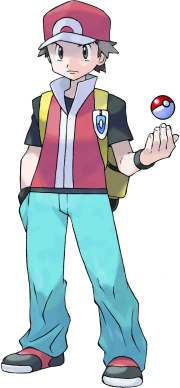 Red is the Pokémon Trainer. Red is the game's protagonist for Pokémon Red, Blue and Yellow versions. He also appears as a NPC in Pokémon Gold, Pokémon Silver and Pokémon Crystal versions, and as well as Pokémon Heart Gold and Pokémon Soul Silver. Red is the highest leveled trainer in any Pokémon game.
History
Red traveled all over Kanto, trying to become the Elite 4 Champion. His Rival always stays ahead. After defeating his rival, Red became Champion, But gave that title away to Lance. In a bid to become stronger, Red trains at Mount Silver, not talking to anyone. In the Second Generation Pokémon games, you may battle him at Mount Silver.
Anime
Red has not appeared in the anime. Ash Ketchum is the anime counterpart of Red. Ash, like Red, has a Pikachu as his strongest Pokemon. ASH is located in Mt Silver, you play AS red. Red was featured in the Pokèmon origins anime that aired in 2013
Manga
Red is the main character in the manga Pokémon Adventures. His team consists of Poliwrath, Venusaur, Pikachu, Snorlax, Espeon, and Aerodactyl.
Pokémon
Related Threads
Red Cliff (2008)
- last post by
@ Apr 18, 2007
Rate your Characters Most Powerful & Strongest of the Dragon Ball vs Marvel vs DC Comics
- last post by
@ Dec 26, 2014
Recasts: Characters vs Character Role
- last post by
@ Aug 5, 2014
Legally Blonde 2: Red White and Blonde (2003)
- last post by
@ Jul 14, 2003
Afk training in fire red
- last post by
@ Feb 10, 2016
Last
edited
by
Lesley Pro_04
on 28 April 2014 at 11:16
This page has been accessed 15,447 times.