Sandshrew
For the Alolan form of this Pokémon, see Sandshrew/Alolan
Sandshrew


サンド

Raichu < Sandshrew > Sandslash

Category

Type

Mouse Pokémon

Number

Ability

#27

Height

Weight

2' (0.8m)

26.5 lbs. (12kg)

Gender Ratio

Male: 50%

Female: 50%

Evolves From

Evolves Into

None

Egg Group

Catch Rate

255

Tier

EV Yield

Sandshrew (サンド) is the 27th Pokémon in the Pokédex. It is a Ground Type, and it is known as the Mouse Pokémon.
Sandshrew has the Sand Veil Ability, which increases its Evasion in a Sandstorm by one level. Its Hidden Ability is Sand Rush, which doubles its Speed during a Sandstorm.
Sandshrew gain the opportunity to evolve into Sandslash starting at Level 22.
Sandshrew is in the Field Egg Group, and its Egg takes approximately 5,120 Steps to hatch. It takes Sandshrew One Million Experience Points to reach Level 100.
Biology
Physiology
Sandshrew is a small Pokémon that has yellow plate-like armor on its body excluding the white underbelly and snout. It has two stubby arms and legs, with poisonous claws. Sandshrew has two pointy ears and a tail which is also has a point at the tip. Sandshrew can curl up into a ball for defense, and when it does, it is about the size of a basketball.
Gender Differences
Sandshrew doesn't have any differences to differentiate between male and female.
Game Information
Original Games
Sandshrew can only be obtained in Red by trading for one, but it appears at Routes 4, 11 and 23 in Blue, and Routes 3 & 4 and Mt. Moon in Yellow.
Routes 4 and 32, Mt. Moon and Union Cave are the areas in which Sandshrew can be found in Gold, and Routes 2 and 4, along with Union Cave and Mt. Moon in Crystal. Sandshrew is available as a Prize at Goldenrod Game Corner in Silver. 700 Coins are required to get one.
Sandshrew appears at Route 113 in Ruby, Sapphire and Emerald. Sandshrew also appears in the Desert and Mirage Tower in Emerald. Pokémon Leaf Green is the only version of the Generation I remakes in which Sandshrew can be found--it appears on Routes 4, 8, 9-11, 22 and 23. The only way to obtain one in Fire Red is to trade for one.
Leaf Green is also the key to finding Sandshrew in Diamond, Pearl and Platinum--with this game inserted into the Game Boy Advance slot of a Nintendo DS or DS Lite, Sandshrew appears inside Wayward Cave after the National Pokédex has been obtained. In Heart Gold and Soul Silver, Sandshrew appears within the Safari Zone's Desert section without needing to place any blocks. Sandshrew also appears within Union Cave and Mt. Moon in Heart Gold.
Sandshrew can only be obtained in Pokémon Black and Pokémon White by Breeding a Sandslash. In Black 2 and White 2, Sandshrew can be found at Desert Resort and Relic Castle.
Spin-Off Games
Sandshrew can be found at the Desert PokéSpot in Pokémon XD: Gale of Darkness, a location within the Orre region in which Wild Pokémon can be encountered.
Sandshrew appears at Secret Storage 2, Huge Storage 3, Endless Level 9 and Mr. Who's Den in Pokémon Trozei!.
Sandshrew can be found in Magma Cavern 1F-6F, Buried Relic 36F-59F, Desert Region 1F-6F and Joyous Tower 68F-73F in the first set of Mystery Dungeon games. In Explorers of Time, Explorers of Darkness and Explorers of Sky, Sandshrew appears at Northern Desert 1F-15F and Shimmer Desert 1F-9F. Sandshrew is exclusive to Stormy Adventure Squad in Mystery Dungeon 3, appearing on the Path to Treasure Mountain B6 and B7 and Final Island 17F-21F.
Sandshrew can be found within Chroma Ruins in Pokémon Ranger: Shadows of Almia. Sandshrew also appears on the eastern end of Mitonga Road, the Monument and Exit Room of Daybreak Ruins in Pokémon Ranger: Guardian Signs in the Present, and in the Forest Temple mission "Where Are You, Sunkern?" by completing the mission with an S Rank.
Sandshrew appears at the Desolated Ruins Desert 3-1 in Pokémon Rumble Blast.
Trading Card Game
Sandshrew is listed in 11 sets and a McDonalds Promo. Sandshrew is listed as a Common Card in the Base Set, Gym Heroes (2 Brock), Skyridge, EX Sandstorm, EX Team Rocket Returns, EX Delta Species, Mysterious Treasures, Supreme Victors, HeartGold/SoulSilver and Boundaries Crossed sets.
Anime/Manga Information
Anime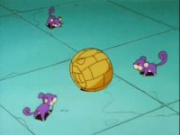 Sandshrew made it's debut appearance in The Path to the Pokemon League. A trainer named Mira used a Sandshrew in the episode Sandshrew's Locker.
Movies
Wild Sandshrew appear in the films Celebi: Voice of the Forest, Giratina and the Sky Warrior and Arceus and the Jewel of Life, along with the Pikachu Shorts Pikachu's Rescue Adventure and Pikachu's Pikaboo.
Manga
Red would defeat two wild Magmar with his Sandshrew in Chapter 23, which was nicknamed "Sand".
Gold grew up with a Sandshrew, which stays at home and makes appearances in Chapters 91-93, 95 & 96.
Pokémon Information
Competitive Battling
Sandshrew is placed in the Not Fully Evolved Tier of Competitive Battling as it is an unevolved Pokémon.
Area Locations
| | | |
| --- | --- | --- |
| Red | None | Trade |
| Blue | Few | Route 4, Route 11, Route 23 |
| Yellow | Few | Route 3, Route 4, Mt. Moon |
| Gold | Few | Route 4, Route 32, Union Cave, Mt. Moon |
| Silver | Rare | Goldenrod Game Corner Prize: 700 Coins |
| Crystal | Few | Route 2, Route 4, Union Cave, Mt. Moon |
| Ruby/Sapphire | Uncommon | Route 113 |
| Emerald | Common | Route 113, Desert, Mirage Tower |
| Fire Red | None | Trade |
| Leaf Green | Common | Route 4, Route 8, Route 9, Route 10, Route 11, Route 22, Route 23 |
| XD: Gale of Darkness | Uncommon | Desert PokéSpot |
| Diamond/Pearl/Platinum | 8% | Wayward Cave: 1F & B1 (Leaf Green inserted into DS) |
| Heart Gold/Soul Silver | Unknown% | Safari Zone: Desert |
| Heart Gold | 20% | Mt. Moon: 1F & 2F |
| Heart Gold | 30% | Union Cave: 1F & B1 |
| Black/White | None | Breed Sandslash |
| Black 2/White 2 | 10% | Desert Resort: Entrance |
| Black 2/White 2 | 15% | Desert Resort: Desert |
| Black 2/White 2 | 20% | Relic Castle: 1F & B1 |
| X/Y | Common | Friend Safari |
| Omega Ruby/Alpha Sapphire | Common | Route 111 |
| Omega Ruby/Alpha Sapphire | Uncommon | Route 113 |
| Sun/Moon | None | Transfer or Trade |
Pokédex Entries
I

Red

Burrows deep underground in arid locations far from water. It only emerges to hunt for food.

Blue

Burrows deep underground in arid locations far from water. It only emerges to hunt for food.

Yellow

Its body is dry. When it gets cold at night, its hide is said to become coated with a fine dew.

II

Gold

If it fell from a great height, this Pokémon could save itself by rolling into a ball and bouncing.

Silver

Disliking water, it lives in deep burrows in arid areas. It can roll itself instantly into a ball.

Crystal

It prefers dry, sandy places because it uses the sand to protect itself when threatened.

III

Ruby

Sandshrew's body is configured to absorb water without waste, enabling it to survive in an arid desert. This Pokémon curls up to protect itself from its enemies.

Sapphire

Sandshrew has a very dry hide that is extremely tough. The Pokémon can roll into a ball that repels any attack. At night, it burrows into the desert sand to sleep.

Emerald

When it curls up in a ball, it can make any attack bounce off harmlessly. Its hide has turned tough and solid as a result of living in the desert.

FireRed

It burrows and lives underground. If threatened, it curls itself up into a ball for protection.

LeafGreen

Burrows deep underground in arid locations far from water. It only emerges to hunt for food.

IV

Diamond

To protect itself from attackers, it curls up into a ball. It lives in arid regions with minimal rainfall.

Pearl

To protect itself from attackers, it curls up into a ball. It lives in arid regions with minimal rainfall.

Platinum

To protect itself from attackers, it curls up into a ball. It lives in arid regions with minimal rainfall.

HeartGold

If it fell from a great height, this Pokémon could save itself by rolling into a ball and bouncing.

SoulSilver

Disliking water, it lives in deep burrows in arid areas. It can roll itself instantly into a ball.

V

Black

To protect itself from attackers, it curls up into a ball. It lives in arid regions with minimal rainfall.

White

To protect itself from attackers, it curls up into a ball. It lives in arid regions with minimal rainfall.

Black 2

It digs deep burrows to live in. When in danger, it rolls up its body to withstand attacks.

White 2

It digs deep burrows to live in. When in danger, it rolls up its body to withstand attacks.

VI

X

It burrows and lives underground. If threatened, it curls itself up into a ball for protection.

Y

Disliking water, it lives in deep burrows in arid areas. It can roll itself instantly into a ball.

Omega Ruby

Sandshrew's body is configured to absorb water without waste, enabling it to survive in an arid desert. This Pokémon curls up to protect itself from its enemies.

Alpha Sapphire

Sandshrew has a very dry hide that is extremely tough. The Pokémon can roll into a ball that repels any attack. At night, it burrows into the desert sand to sleep.

VII

Sun

It can roll its body into a ball. It moves through the desert by rolling at high speeds.

Moon

It usually makes its home in deserts and arid zones, where rain does not fall. It digs holes to catch Bug-type Pokémon.

Ultra Sun

Ultra Moon
Pokéthlon Statistics
| | | | | |
| --- | --- | --- | --- | --- |
| Base Stats | Min- | Min | Max | Max+ |
| | | | | | |
| --- | --- | --- | --- | --- | --- |
| HP | 50 | . | 210 | 304 | . |
| Atk | 75 | 139 | 155 | 249 | 273 |
| Def | 85 | 157 | 175 | 269 | 295 |
| Sp. Atk | 20 | 40 | 45 | 139 | 152 |
| Sp. Def | 30 | 58 | 65 | 159 | 174 |
| Speed | 40 | 76 | 85 | 179 | 196 |
Moves
For learnsets from previous generations, see here
Via Level-Up
Via TM/HM
Via Breeding
Z-Moves
Move
Type
Power
Accuracy
Class
Breakneck Blitz
175

*

/120

*

--
All-Out Pummeling
140
--
Supersonic Skystrike
120
--
Acid Downpour
160
--
Tectonic Rage
180

*

/100

*

--
Continental Crush
140
--
Savage Spin-Out
160
--
Never-Ending Nightmare
140
--
Corkscrew Crash
160
--
Black Hole Eclipse
140
--
Transfer Only Z-Moves
Evolution Line
| | | |
| --- | --- | --- |
| | Level 22 | |
Type Matchups
Related Threads
Slush Rush Sandshrew
- last post by
@ Apr 9, 2017
Sandshrew or Trapinch
- last post by
@ Nov 12, 2012
Shiny Sandshrew/ Sandslash
- last post by
@ Mar 26, 2010
Sandslash or Sandshrew
- last post by
@ Aug 28, 2007
sandshrew
- last post by
@ May 21, 2003