Series 6: Sun & Moon Series
The Sun & Moon series is the sixth series of the Pokémon anime. After his adventures in the XY Series, Ash and Pikachu take a vacation to the Alola region with his mother, and Mimey. However, soon after he arrives, Ash decides to stay and take the Island Challenge. Ash is joined by his classmates Lana, Lillie, Mallow, Sophocles, and Kiawe through his travels.
Episodes
Pokémon the Series: Sun & Moon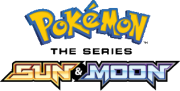 Movies
Trivia
Related Threads
Pokémon Sun & Moon Profile Project
- last post by
@ Aug 10, 2016
Sun & Moon News Coverage | Latest news: October 23rd 2016
- last post by
@ Apr 21, 2016
Sun/Moon Breeding Guide
- last post @ Apr 3, 2017
☀Pokemon Sun & Moon Hurt&Heal: Most Wanted Megas | Legendary Edition
- last post by
@ May 19, 2016
Official Neoseeker Sun & Moon Friend Code Exchange
- last post by
@ Jun 3, 2017
Last edited by
piplup17
today at 16:09
This page has been accessed 2 times.