Xtransceiver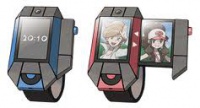 The Xtransceiever is a high-tech transceiver with a camera function. The colors differs between male and female trainers. You can communicate with various people including your friends and Professor Juniper at important moments in the game. The Xtransceiver is obtained when you reach Nuvema Town. In Pokemon Black 2 and White 2, the Xtransceiever is obtained in the player's house in Aspertia City.
Related Threads
How often can I call Yancy on Xtransceiver?
- last post @ Nov 26, 2013
Registering trainers to the Xtransceiver
- last post @ Dec 17, 2013
Xtransceiver Request Thread
- last post @ May 4, 2013
Last
edited
by 74.105.211.127 on 21 August 2012 at 15:58
This page has been accessed 572 times.