Twinleaf Town
Twinleaf Town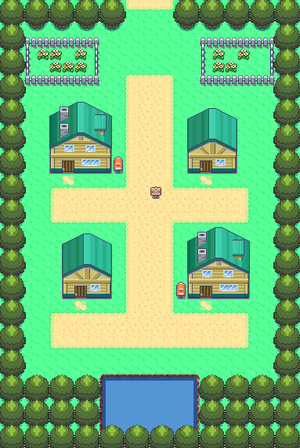 Region
Sinnoh
Connections
Twinleaf Town (Japanese: フタバタウン Futaba Town) is the starting town for players in the Sinnoh Region. One of your rivals starts here as well. Twinleaf Town is your hometown in Pokémon Diamond, Pearl, and Pokémon Platinum. This town is the closest town to Lake Verity and is said by the residents that it's their "local lake".
At the player's house, they can always come back to rest. It clears their party Pokemon's status problems and boosts their Pokemon's HP. This is where the player start their journey and get prepared for it as well. In the player's bedroom they have a PC which reads: "Pokémon Basics... People live alongside Pokémon in this world. The people that battle Pokémon are called Pokémon Trainers." This time the PC doesn't contain a storage system like the original GBA games and does not have a Potion inside. There's a TV with a Nintendo Wii next to it that has two Wii Remotes. On the wall is a sign that reads: "The X Button opens the menu!".
Another thing the player could do is visit their rival's house. In the beginning of the game, the player runs into him when they first visit his house. That is the only time during the story that he is at his house. A Parcel may also be obtained here that his mom asks the player to deliver to him, a Town Map is obtained once the Parcel is delivered.
In the Anime this town is the place where the female trainer Dawn lives, who is based off the female trainer that the player can choose as a selection at the start of the game. A difference from the game and the Anime is that there's a Pokémon Contest in Twinleaf Town that Ash and his friends went to in one of the later episodes, Dawn enters that Pokémon Contest to beat her mother.
The Town Motto of Twinleaf Town is "Fresh and Free!".
Pokémon
Items
Item
Location
Requirement
Games

Obtained from your mother

None

Obtained from your mother after returning from

Sandgem Town

.

None

Obtained from your Rival's mother to deliver to your Rival.

None

In the trees on the southern tip of the town (hidden)
Related Threads
starting town
- last post by
@ Apr 24, 2010