Pokémon Rumble
Pokémon Rumble

Developer

Ambrella

Publisher

Nintendo

Release Date(s)

JP: June 16, 2009
NA: November 16, 2009
EU: November 20, 2009

Ratings

A
E10+
7

Players

4

Compatible With

N/A
Pokémon Rumble (Melee! Pokémon Scramble) is a WiiWare game that stars Pokémon Toys. It allows you to fight and befriend other Pokémon Toys using the Wonder Key, making these Pokémon Toys become real Pokémon!
Pokémon
This game only includes Pokémon from the Kanto Region and the Sinnoh Region. No Johto or Hoenn Pokémon are included in this game. This means trading in 5 Slowbro will not get you a Slowking, but a Slowpoke, it's Pre-Evolution from Kanto.
Shiny Pokémon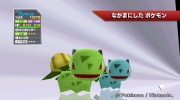 Shiny Pokémon (sometimes known as Alternate Colored Pokémon) can be found in Pokémon Rumble very often. The chances of finding one have gone up since the regular, mainstream games. When you find one in the wild, you will automatically befriend it after defeating it, and it will usually have a special attribute, such as Brawny.
Battle Royale
The Battle Royale is used to test which Pokémon Toy is the best. Here, they all compete against other toys for the title of Champion. Each round is like a "boss" that can be found in other games. Every one starts out with a time limit, and you can get more time by beating other Pokémon Toys.
These can be accessed in each area after you befriend a Pokémon Toy that has the right amount of strength.
These round all have strong Pokémon inside of them that have higher stats than the others. Their silhouette can be viewed before you start the Royale. This is shown, along with their Strength and Type.
Terminal
The Terminal is the "shopping center" of the game. There are seven different resources here that can help you throughout the game, by doing things such as buying new attacks, viewing your Pokédex, or even recruiting new Pokémon. This is unlocked after you finish the C Rank Silent Forest.

Unknown Recruiting: The red building in the in the Terminal will drop out random Pokémon that you can buy using Poké, by inserting a password, or using their ticket. Using Poké to buy the Pokémon will give you a random Pokémon that you can find in that area.
Pokemon Releasing: The 1st blue building you see will give you the ability to release Pokémon. When you do release them, you may get Poké, or through special circumstances, a ticket. To obtain a ticket, you must release 5 Pokémon, or a certain combination of Pokémon.
Attack Teaching: In this roulette-like area, you can obtain new attacks for your Pokémon using Poké. All moves you obtain are based on the Pokémon's Moveset, since everything else is completely random. You cannot choose which move you obtain using this mode, only get an idea. The price varies for each different area.
Wii Remote: Here you can transfer a Pokeémon from the game to a Wii Remote, or bring a Pokémon to the game from a Wii Remote. Doing this allows you to have your Pokémon on any Nintendo Wii that has this game.
Multiplayer: In this area, you can set up multiplayer. You are able to bring in 3 other players, for a total of 4 players. They can then participate in Story Mode with you, by advancing through the Battle Royales and the different areas.
Collection: Here, you are allowed to look at your Pokémon Collection. That is the only thing you can do in this area.
Information: This area will give you basic information about the game. It will also allow you to view pictures you have taken, as well as get into the options.
Locations
Related Threads
You can now grab physical copies of Pokemon Rumble World in the West!
- last post by
@ Apr 29, 2016
best moves to get in pokemon rumble blast.
- last post by
@ Aug 8, 2014
Pokemon Rumble U
- last post by
@ Aug 9, 2013
Pokemon Rumble World receives patch!
- last post by
@ Apr 4, 2016
LF: Pokemon Rumble World Friends
- last post by
@ Jul 1, 2015