Route 101
Route 101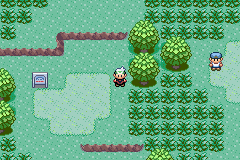 Region
Hoenn
Description
This grassy path running between Littleroot Town and Oldale Town is perfect for doing fieldwork.
Connections
Route 101 is a short route that connects Littleroot Town to the south and Oldale Town to the north.
Pokémon
Generation III
Generation VI
Items
Item
Location
Requirement
Games
DexNav
From the rival
None
ΩR
αS
Trainers
There are no trainers on this Route.
Related Threads
Pokémon 101 (Frequently Asked Questions)
- last post by
@ May 7, 2011
Pokemon 101 (Frequently Asked Questions)
- last post by
@ Jul 5, 2007