Z-Move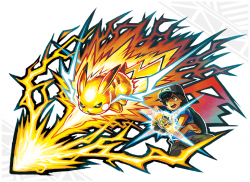 A Z-Move is a powerful move that can be used when a Trainer and a Pokémon's wishes resonate with each other, allowing them to release their full power together. These moves can only be used once per battle.
In order to use a Z-Move, a Trainer must possess a Z-Ring and equip it with a Z-Crystal. The Pokémon must also be holding a Z-Crystal of the same variety, as well as having learned a move of the same type. When these requirements are fulfilled, the Trainer and the Pokémon will be able to resonate with each other. The base power of the Z-Move changes depending on the base power of the move it is taken from. When a Z-Move is taken from the status move, however, the status move is used with additional effects in play, such as raising stats or healing ally Pokémon.
There are two different types of Z-Moves that can be used; those that are of a specific type that can be used by all Pokémon, and those that are unique to particular species of Pokémon. Although Z-Moves can be used by any Pokémon, they cannot be used by Mega Evolutions as both Mega Evolution and the use of Z-Moves both utilize a held item.
List of Z-Moves
Type-based
Z-Moves based on specific species
Introduced in Sun and Moon
Introduced in Ultra Sun and Ultra Moon
Status Moves
Related Threads
FR/LG Move Tutor Moves/Locations
- last post by
@ Mar 4, 2005
Draco move and move sets
- last post by
@ Mar 20, 2008
Move Deleter/Move Tutor
- last post by
@ Apr 30, 2007
Move Deleter, Move rememberer, Good training spots WHERE R THEY?
- last post by
@ Aug 24, 2007
Make Your Own Moves 2! (Moves Rated Inside)
- last post by
@ Oct 15, 2003